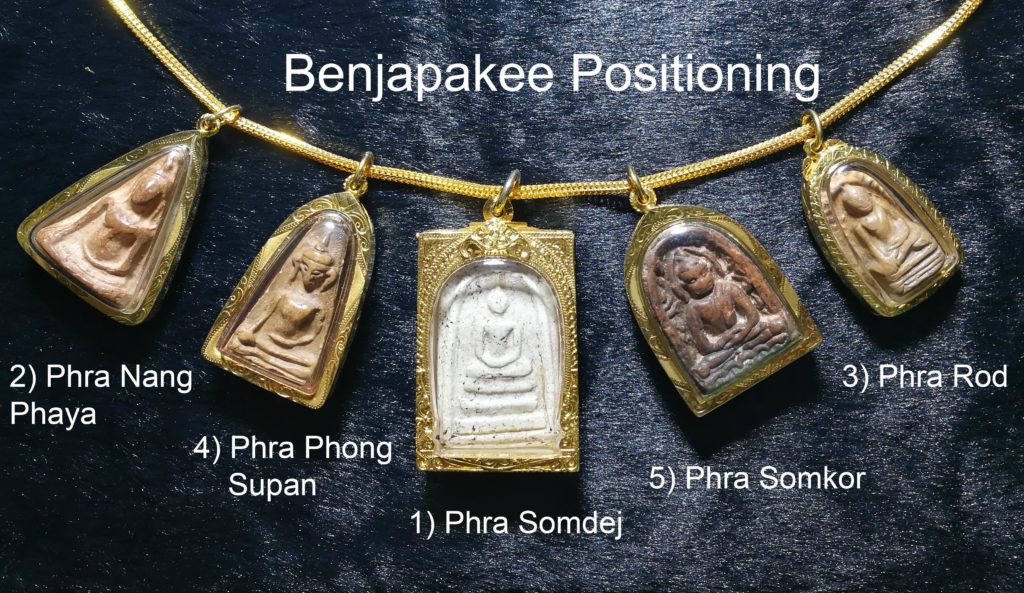 Benjapakee is a group of grand five amulets most wanted by amulet collectors. The word "Benja" means five and "Pakee" means member. Hence it means a group of five amulets. Benjapakee is a word from Pali, a sacred language found in the most literature of Theravada Buddhism. The suggested order to wear the amulets are shown above.
The Benjapakee amulets are:
Phra Somdej (King of Amulet)
Phra Nang Phaya (Queen of Amulet)
Phra Rod
Phra Phong Supan
Phra Somkor
Phra Buddhachan Toh Phromarangsi was the first to create Phra Somdej. Somdej Toh is the son of King Rama I and Nang Ngud from Kamphaeng Phet province and is one of the most beloved and famous Thailand monks of all time. Somdej Toh started to create the first batch of Phra Somdej amulets in Buddhist Era (B.E.) 2409 (A.D.1866). Somdej Toh made a total of 84,000 amulets at that time.
Phra Somdej amulets' important material consists of Holy powder, assorted flowers, rice, lotus, shell lime, banana, ashes, honey, tang oil, sand, and others. Somdej amulets made at the time were blessed by Somdej Toh using Chinabanchorn Katha and by other senior monks.
Phra Somdej is a part of the grand five Benjapakee set. It is known as the King of amulets and it is placed in the middle of the set. The five notable pims for Somdej Wat Rakhang are Pim Yai, Pim Jaydee, Pim Tarnsam, Pim Katebuatoom and Pim Prokboh.
Phra Nang Phaya is known as the "Queen of amulets," and is a part of the Benjapakee set. The triangular amulet portrays a Buddha in the subduing Mara posture (left-hand rests on the lap and palm facing up, right-hand bends over the knees and facing the ground which symbolizes enlightenment and imperturbable.
Phra Nang Phaya was created during the Ayutthaya era, in Phitsanulok province. Queen Wisutkasat, wife of King Mahathammarachathirat created the amulet during B.E. 2106 (A.D.1563) when war broke out. The amulets were mainly given out to the soldiers for protection. The rest of the amulets were only found in Wat Nang Phaya after many centuries in B.E. 2444 (A.D.1901).
Phra Nang Phaya amulets are highly desirable and very popular among worshipers and collectors. It is good for its blessings like protection from dangers, gaining respect from others, and boosting attractiveness.
Phra Rod is the most famous among the lumphoon province amulets. It was created by a hermit and discovered at Wat Mahawan during the King Rama V reign. The name of 'Phra Rod' came from the hermit name, "Narata Rorsee" and later changed to "NaRod." After it was discovered at Wat Mahawan, people called it "Phra Rod."
Phra Nang Cham Thewi, Queen of Lumphoon province, built four temples at the cardinal directions to protect the and city and people. Four hermits were invited to the ceremony, and at that time the"Phra Sukaputtapatima" amulets were created. It consists of Phra Rod, Phra Perm, Phra Bang, Phra Khong and Phra Liang. The amulets were then kept in four temples, Wat Phra Khongrorsee (North), Wat Phratoolee (South), Wat Chetawan (East) and Wat Mahawan (West). After the temple was demolished many centuries later, people start finding the Sukaputtapatima amulets in the remains. There are five pim for Phra Rod, Pim Yai, Pim Grang, Pim Lek, Pim Tearn and Pim Tor.
The first batch of Phra Rod amulets is over 1,200 years. Worshippers regard Phra Rod as "Buddha of Escape" as they had superb power and best for protection from disasters.
Phra Mahathera PiyaThassi Saribut created Phra Phong Supan during the period of King Borommarachathirat ll. The amulet was made with materials like soil, flower, pollen, medical herbs, and others. Phra Phong Supan was first found in Wat Phra Sri Rattana Mahathat along with a golden scripture that shows the connection between the amulet and its creator.
Phra Phong Supan has the classic "U-Thong" art style features which are definitive for Buddha icons in Thailand culture. Something unique about this amulet is that the creator's thumbprint is imprinted on the back of the amulet. Phra Phong Supan amulets are known to have protective powers and enhancing the attractiveness of the user.
It is highly regarded as one of the best amulets out there, and it is also part of the grand five Benjapakee set. Phra Phong Supan amulets typically come in 4 colors: red, black, green and yellow. It has three notable pims: Pim Na Noom (young face), Pim Na Klang (mature face) and Pim Na Kae (old face).
Eleven hermits created Phra Somkor in the era of King Phra Mahathammaracha litai, the 5th king of Sukhothai. It was first discovered on B.E. 2392 (A.D.1849) in Wat Phra Borom that, Kamphaeng Phet province. Phra Somkor comes with a thumbnail or oval shape. Phra Somkor is the most famous among the Kamphaeng Phet province amulets. Kamphaeng Phet province is known as the "Millionaire Field".
Kamphaeng Phet province ancient amulets were discovered when Somdej Phra Puttacharn Toh Prommarangsi from Wat Rakhang went there to visit his relatives and saw a stone inscription about a pagoda. After that, Wat Borom was recognized, and the Kamphaeng Phet amulets were found there. Subsequently, when the temple was demolished for reconstruction, more amulets were discovered. Phra Somkor is part of the grand five Benjapakee set. The beautiful art on Phra Somkor amulets are marvelous and is the last piece to make up the Grand five amulets. There is a famous slogan for Phra Somkor amulets, "if you have me, you will never get poor."
Here are a few hand-picked articles for you to read next: